Have you heard of the name Keiichi Tsuchiya aka King of Drift?

Keiichi Tsuchiya aka "Drift King" is a professional Japanese racer in Japan.
His Drift driving is to drive fast, rather than drifting to fascinate, attracted many spectators.
His favorite cars are Toyota AE86, Honda NSX-R, etc.
From Nagano, Japan. He started driving with Skyline 2000GT on Touge to brush up his driving skill in 70s.
1984 he debut sponsored by Yokohama tire. Tsuchiya's name suddenly spread to the world of motor sports by winning the opening six consecutive wins at Toyota Sprinter Trueno. (source: wikipedia )
What is Drift?

"Drift" driving is a motor sport that originated in Japan, which slides the rear tires of the vehicle.
Born in the 1980s on Touge or a mountain pass in Japan.
A technique that has been used in motor sports for a long time, it controls the machine by applying counter steer to prevent it from spinning.
Nowadays, attractive drifts that compete for distance, angle and close combat are the mainstream.
However, it is said that Keiichi Tsuchiya's drift, called "Drift King", was for running at the limit of vehicles and tires, not for fascinating but for running fast.
It is a skill unique to him who had outstanding machine control skills, but it can be said that it was possible because there was a machine that responded to that driving.
Tsuchiya was not only a touring car, which he is good at, but also a formula car F3 and a prototype TS020, showing a high level of responsiveness.
Keiichi Tsuchiya, also known as Drikin(short form -Drift King), is said to be the leading drifter in Japan.
Drifting is only permitted in certain areas, as it can cause explosions and tire smoke, which can herm the surroundings.
*Please do not even try this. this is only informative purpose.
Mr. Tsuchiya who rode various machines, but here I would like to introduce the machines that fought in the race with drift pursuing speed with him.
Toyota AE86 Sprinter Trueno & Corolla Levin
This AE86 is a simple vehicle equipped with a 1600cc NA engine on a lightweight FR body that is less than 1t, and it has low power but well-balanced and straightforward behavior, so you can hone your skills.
Mazda FC3S RX-7
Mr. Tsuchiya who participated in JSS (Japan Super Sports Sedan Race) with RX-7 (FC3S).
He won the RX-7 by capturing the heavy rain Fuji Speedway with a splendid drift, and it was the reason why he became known as the "Drift King".
With JSS, the series has started in the form of taking over the silhouette formula (Group 5), which had a wide range of modifications, and the large wings, overhanging fenders, and engine have only displacement restrictions, and almost anything else is done. It is a full-tuned car that retains the shape of a commercial car.
The RX-7 on which he rode was also equipped with a large overhanging fender, and he wore thick tires on the front and rear to support high power.
Coupled with the vehicle control he acquired on the AE86, he showed outstanding speed in the corners and was on an equal footing with other machines that outperformed in power.
This FC3S RX-7 was designed with a front-rear balance of 50:50 from the standard specifications, and it had excellent mobility.
Mr. Tsuchiya has given high marks to this FC3S RX-7, and it can be said that it is one that suits his driving style.
https://youtu.be/3TqgvpAmBq4
Nissan BNR32 Skyline GT-R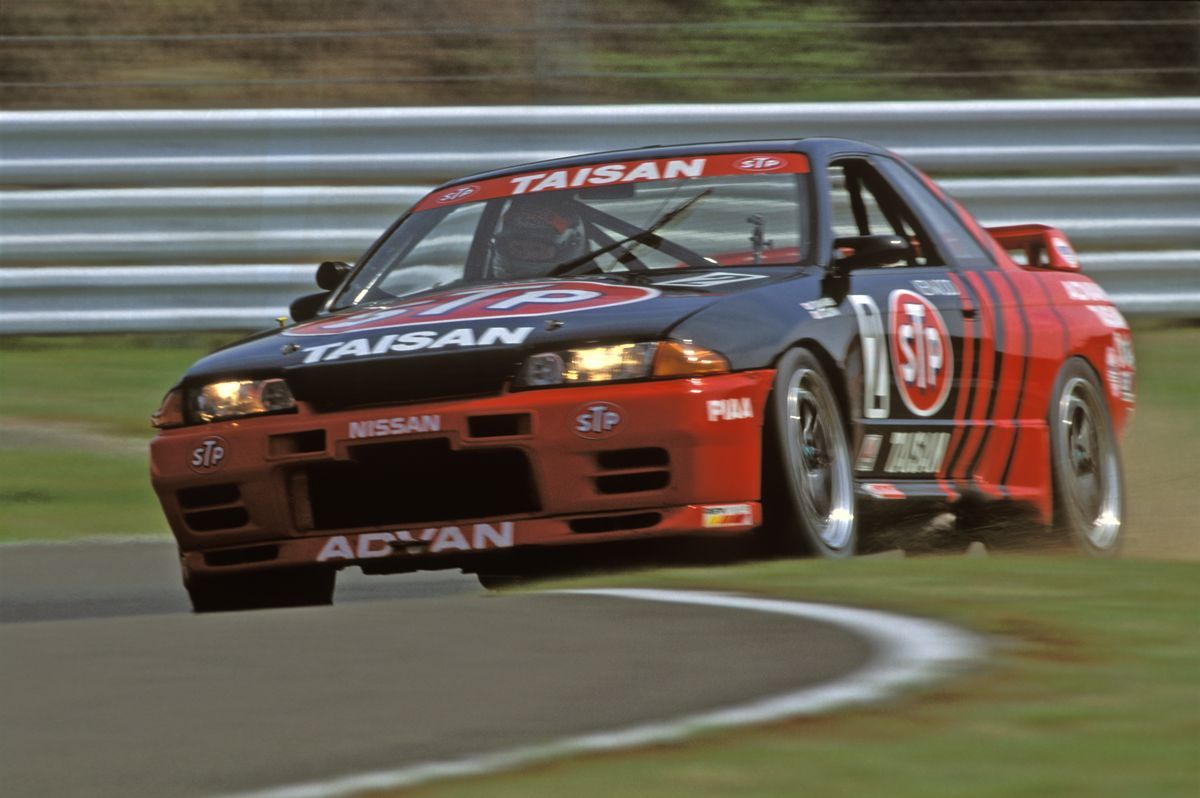 The R32 GT-R, which is generously loaded with Nissan's technology, has shown strength enough to cause other manufacturers to lose their fighting spirit from the beginning of Group A debut.
In the end, Mr. Tsuchiya, who participated from Team Taisan in Group A where Division 1 class became a GT-R one-make state, partnered with Mr. Kunimitsu Takahashi and won 10 times including one victory in total I will leave a wonderful result of getting the podium.
Mr. Tsuchiya says that he became a racing driver when he saw Kunimitsu Takahashi riding the skyline and drifting fast in the race he watched for the first time when he was young.
The origin of Mr. Tsuchiya, who was called the "Drift King," was here.
It seems that it was one of the emotional events in his driver's life to be able to partner with the famous player he admired and race on the famous car Skyline.
Honda NA2 NSX
The NSX was the last machine to ride in Mr. Tsuchiya's racing driver career.
Starting with the All Japan GT Championship, he also participated in the NSX 24 Hours of Le Mans.
In the GT Championship, ARTA (Autobacs Racing Team Aguri), who is familiar with orange machines, participated in the GT500 class.
He has won one win each in 2000 and 2001, proving that he has the ability to pass the machine and driving technique in Japan's highest class.
Conclusion:
A man called Drift King mastered drifting to run faster and used that technique to ride any machine.
He is still active on the circuit as an executive director of ARTA and a judge of Drift Muscle.
He has gained tremendous trust in the racing world, and at the retirement ceremony, it was seen off by many players and related parties, and made me feel the depth of hope again.
Ceremony:
https://youtu.be/X3StnxHsdWo
JDM forever
#jdm #drift #initial-d #tsuchiya #drift-king