WHAT???! the heck is this?
Aavegotchi!
have you played it or even heard of it?
I would like to share some info about that famous retro game "Tamagotchi" inspired fun game 🐣
・What is Aavegothi
・How to play Aavegotchi
・Conclusion
What is Aavegotchi?
In short, each Aavegotchi is a playable avatar that represents DeFi collateral that is earning yield on Aave. That said, you can also battle the spooky little critters, level them up and equip them with wearables that change traits. As for the ghost theme, that's because "aave" means ghost in Finnish.👻
How interesting is that?? 🤩 Anyone who has owned and played Tamgotchi, you pretty much already know how it's like in terms of playing the game. With this game though, it is bit different than Tamagotchi and that's what it makes unique.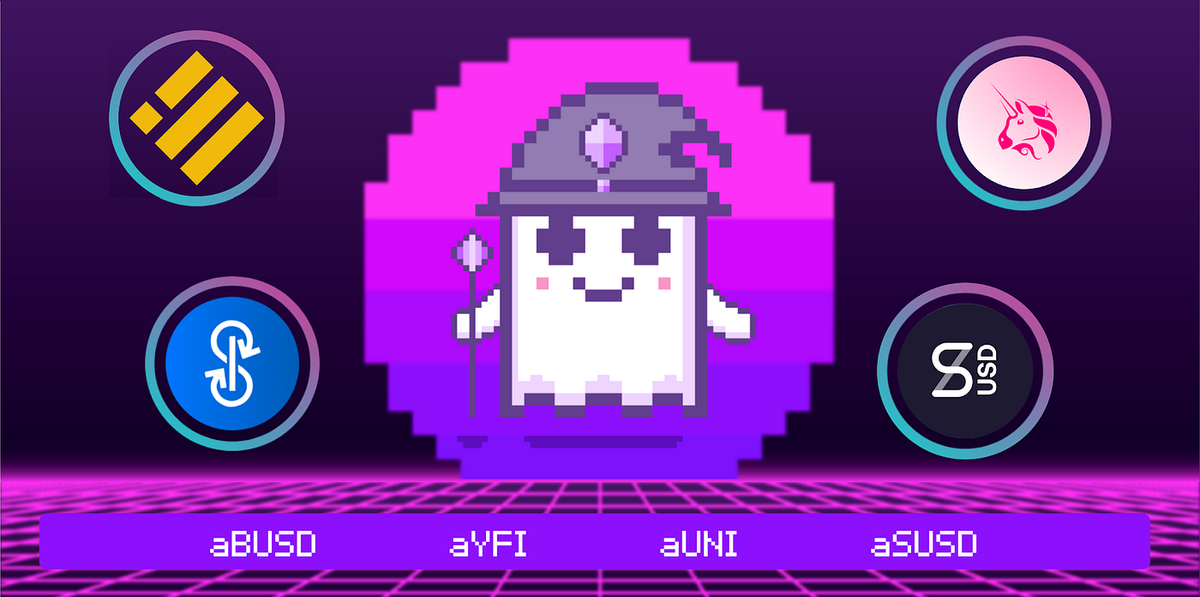 How to Play Aavegotchi?

GHST token
GHST is the native governance token and the base currency of the Aavegotchi ecosystem that unlocks the most aawesome features of the game. You can stake it to get FRENS and convert them into Raffle tickets, buy Portals and wearables, earn more GHST (coming soon!) and much more.
You can buy GHST on Uniswap (Ethereum), QuickSwap(Polygon) and other exchanges such Binance.com, Karaken etc.
Portals
A Portal is a device you need to summon your Aavegotchi from the Nether realm and start playing. A Portal allows you to choose from 10 different Aavegotchis with randomly generated traits and add intrinsic value to it by staking Aave-backed ERC20 tokens, or aTokens to it.
Before you can raise your pixelated ghost baby, you'll need to summon it via a Portal.
You can purchase a Portal on the Aavegotchi dApp or an external NFT marketplace such as OpenSea for approximately 100 GHST.
(Make sure you have Metamask or other wallets to connect)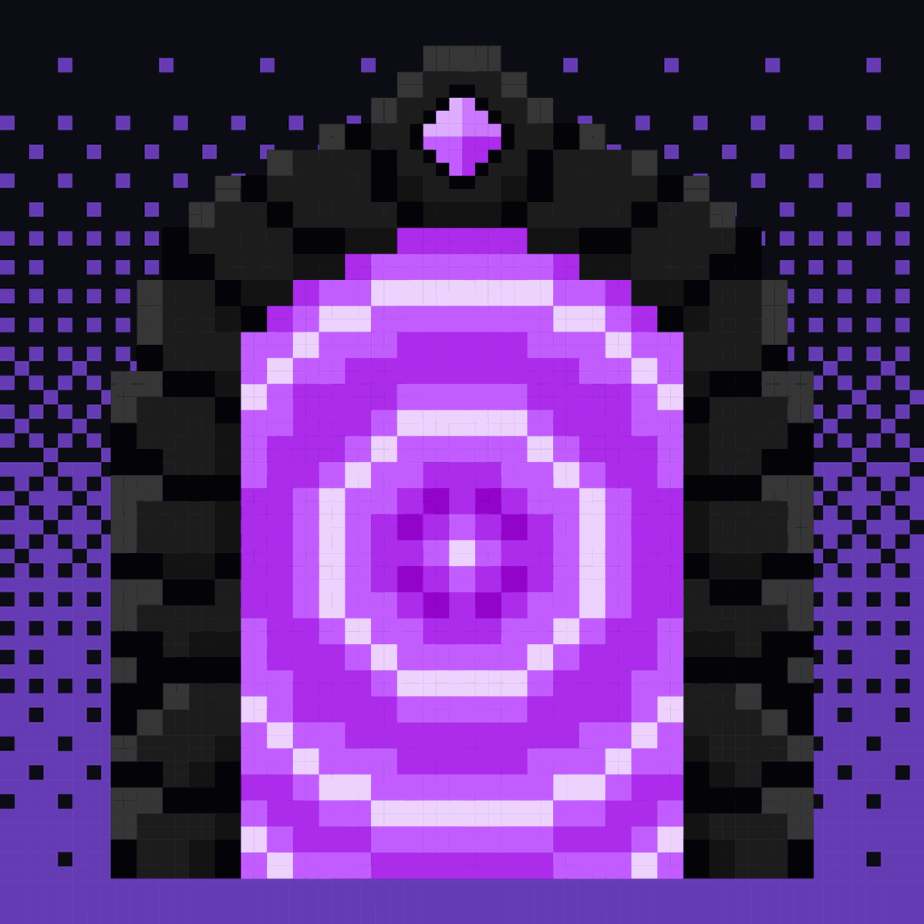 After purchasing the portal, the very next step is to open it. Opening the portal occurs on Polygon where you need to sign a transaction that will generate random numbers which will determine the traits of your gotchis 🐙
Here's a handy flow chart that summarizes the process: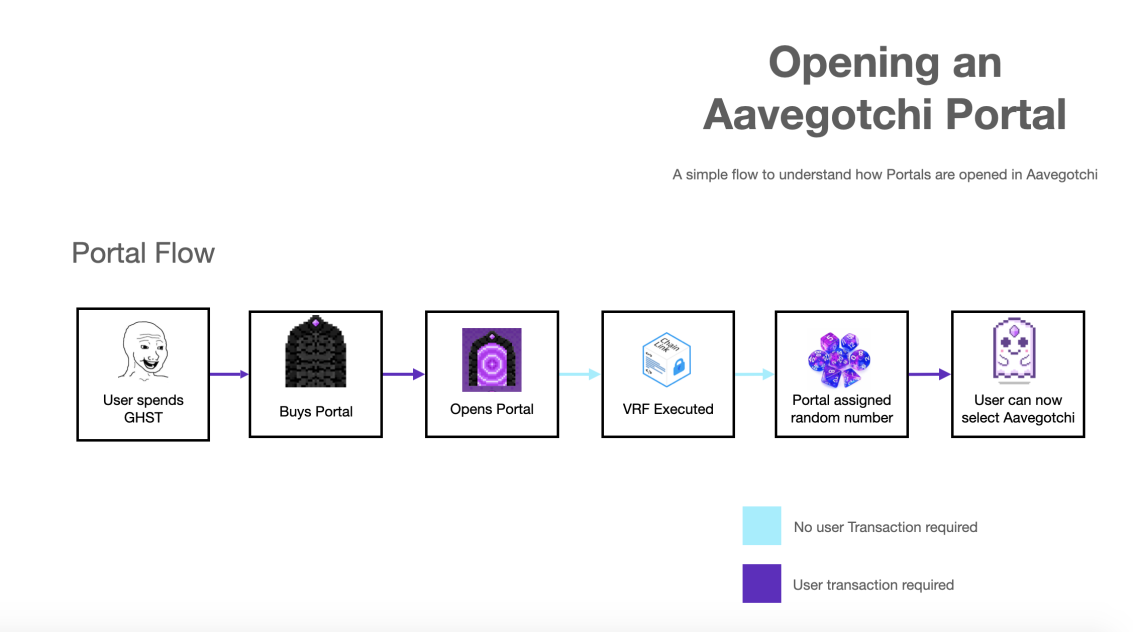 Once you did that, we will get 10 Aavegotchis to choose from. (You could only choose one of them😢)
Each randomly generated Aavegotchis have different traits and some are more rare than the others , so Do Your Own Research to find out which one indeed you would like to choose from these 10 babies👻
Here is some formula to calculate its rarity:
FINAL RARITY SCORE
Final Rarity Score = Traits BRS + Wearables BRS + Traits ARS (See more details on Rarity score chart on wiki)
Check the table chart below!
Trait Range and Rarity Probabilities
| | | | |
| --- | --- | --- | --- |
| Rarity Type | Range (Low) | Range (High) | Percentage |
| Common | 25 - 74 | 25 - 74 | 50% |
| Uncommon | 10 - 24 | 75 - 90 | 30% |
| Rare | 2 - 9 | 91 - 98 | 16% |
| Mythical | 0 - 1 | 99 - 100 | 4% |
Claiming an Aavegotchi
In order to claim your Aavegotchi, you need to stake so called aTokens or maTokens. (they shifted to matic/polygon network for saving "gas", on polygon network you stake maTokens). --Learn More on aTokens
These aTokens or maTokens are available to purchase via Aave or DEXes like Uniswap (Ethereum), QuickSwap (Polygon) and more.
Generally speaking, the minimum amount of Spirit Force (collateral) depends on the Base Rarity Score of the Aavegotchi you want to summon. The higher the score, the more collateral it requires.
The minimum amount of collateral required is 10 DAI (about $10) worth, while the maximum is 1000 (about $1000) DAI worth of collateral.
You could always adjust this collateral tokens later on Aavegotchi DApp UI.
Then you would need to perform 2 transactions in order to complete. 1 is to allow its smart contract to use your aTokens/maTokens, then 2 is to claim your gotchi.
Once you did that.....voila!! you get your Aavegotchi in the portal! so interact with that baby on your Aavegotchi profile page. (Lean more about the profile page)
There you can see all kinds of fun stuff to play with it 👻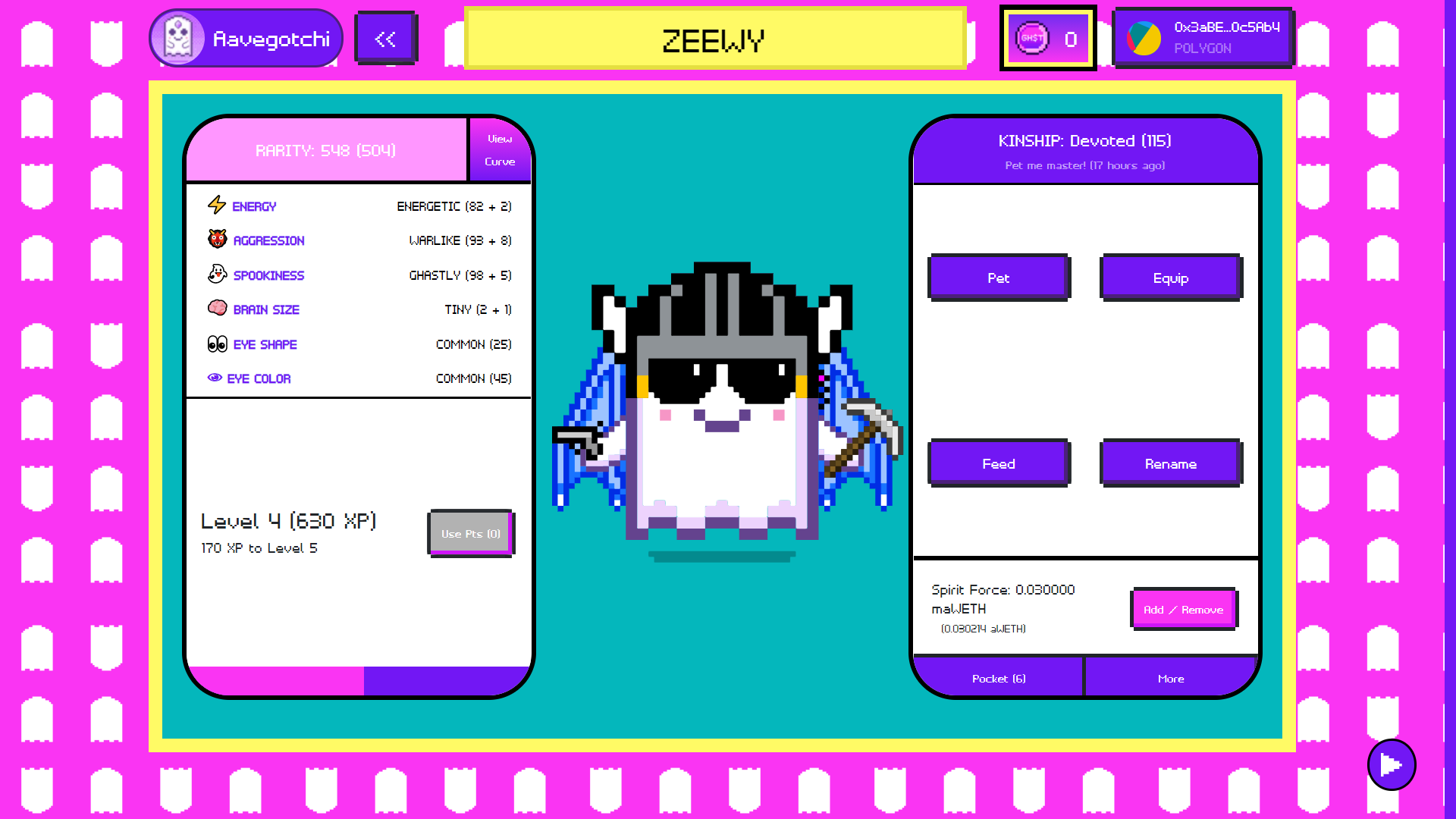 INTERACT WITH YOUR GOTCHI
At the right corner of the screen, you can interact with your Gotchi in various ways: (1) Pet, (2) Equip, (3) Feed, and (4) Rename.
Petting your Gotchi once every 12 hours will raise his/her kinship score by 1. (Learn more about kinship)
With the Equip, you get to add some wearables onto your Gotchi and that will change how it looks (Starting naked usually). You could always Unequip or change around.
Feed button let's you feed some consumables such as kinship portion XP which you can get from Maal or Bazaar.
And Rename, you guessed it, you can rename your Aavegotchi (it must be available, meaning has not been taken by others). and its max characters is 25 characters.
On this page, you can see its stats and Spirit Force (=maTokens).
GOTCHI POCKET
At the bottom right corner of the screen, there is a Pocket button. Click on it to reveal your Gotchi Pocket, which serves as an inventory for your Gotchi fren.
Note: Your inventory is separate from your Gotchi's Pocket. basically they are what this Gotchi owns.
the pocket contains:
The wearables equipped by the Gotchi
GHST tokens won by rarity farming
Baadges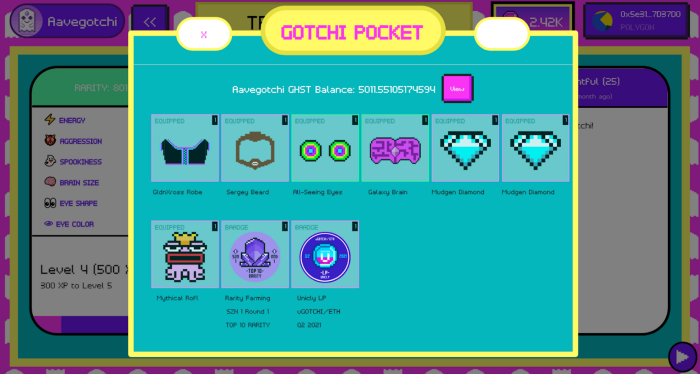 Baadges are special NFTs that you can earn from Special events. and they stay in its pocket forever whereas the wearables and GHST tokens you could remove from the pockets.
There are more stuff such as Staking which earns FRENs which then you get exchange with "tickets" for raffles to win some cool stuff!. Learn more and have fun!
Conclusion
wow, so much to learn!! but you know what, once you learn how to play (and it should not be that hard), actually you can start earning some tokens which you can exchange with other tokens such as ETH then sell for fiat money if you like. In other words, you can earn money by playing the game! 👻👾🎮
You need initial investment to start playing is not very easy for some of us, but honestly, just by holding the GHST tokens or NFTs in the game, those could increase their value since web3 blockchain games are just started🙌
As you may know how huge Tamagotchi was back in the day, this could be the next Tamagotchi hit...who knows 👻
That's it for today! Now, what do you guys think? is it as cool as Tamagotchi? or even better? or not really 🤔
Share your thoughts in the comments 🗣
The future is HERE and more fun stuff is yet to come 🥳🦾🤖
#tamagotchi #aave #defi #nft #blockchain #crypto #game #retro #classic