Are there any Totoro fans out there?
Sure there are! that's why I would like to share some interesting stuff related to Totoro of the studio Ghibli!
These are REAL places exist in Japan today, so if you happen to be a Ghibli fan and have a chance to go/trip to Japan, now you know where to visit after Studio Ghibli in Tokyo Japan! :)
Stuff I will share with you are pretty interesting, so here the summery in case you want to what they are NOW!
Totoro Stations
Totoro Bus Stops
Totoro Rock and Tree - Nature Made Totoro
Alright, let's begin!
Totoro Stations in Japan
I've heard that there are some train stations in Japan which some has totoro's mural and the other's name of station is called "Totoro". Hah! Pretty interesting.
For those of you who are not very familiar with Totoro and Ghibli movies, Totoro is NOT a real creature as far as I know (maybe it's real who knows...)
1-1 Totoro Station with Totoro Mural
"My Neighbor Totoro" is one of the masterpieces of Ghibli animation and is very popular with children and adults in any ages.
A mysterious vehicle such as a cat bus appears in "My Neighbor Totoro", but it is said that there is actually a Totoro station in Japan.
The local line "Kazusa Okubo Station" in Chiba Prefecture is famous as Totoro Station, with the My Neighbor Totoro drawn in the waiting room.
YouTube: https://youtu.be/I4-8TqOaMJ8
This place not only the station itself but the entire scenery surrounding are really like being in "Totoro World".
Once you get off at the station, a next train comes 1+ hour after that you would need to wait for some time..although it is worth waiting.
Satsuki with an umbrella and Totoro is drawn in the waiting room of the station, making it a famous place among Totoro fans.
Although it is not in the waiting room, there is also some drawing of Mei and dust bunny on the wall of the station. The picture drawn at the station was by an elementary school student a long time ago, then it is left as it is.
The station is surrounded by nature and it feels like a cat bus will come out. lol
Kazusa Okubo Station is called "Totoro Station" because it has Totoro characters drawn on it. However, there IS some station actually named Totoro.
1-2 The Station named Totoro
There is a real station named "Totoro Station" in Nobeoka City, Miyazaki Prefecture. It is said that this Totoro station is an unmanned station with less than 100 users a day.
By the way, this is a famous area for clamming.
YouTube: https://youtu.be/_Ecg5-wOAhs
Now you know how to write "Totoro" in Kanji although it's only the name of the station, Totoro in Ghibli Anime has no Kanji and written in Katakana (another trivia for you ;))
It is said that 1,500 participants will visit the annual Totoro shellfish digging day. The station is called Totoro and is very popular with Ghibli fans.
It is said that it is a coincidence that the name is similar to My Neighbor Totoro. Although the land is depopulated, the number of tourists seems to be increasing thanks to My Neighbor Totoro.
Totoro Bus Stops in many places in Japan
Totoro Station is not the only spot associated with My Neighbor Totoro. The bus stop where the cat bus rushes is also impressive. In fact, there are many bus stops related to Totoro as well.
2-1 Totoro Bus Stop (轟)
In Saiki City, Oita Prefecture, there is a district where "轟" is written and read as (Totoro). It is said to be the most famous bus stop for Totoro related in Japan, and there is a forest called Totoro Forest nearby too.
It looks like that this place became famous because the signboard of Nekobus was placed near the bus stop. After that, the number of Totoro-related dolls and signboards increased, and Satsuki carrying Mei and Totoro's panel was also displayed inside the bus stop.
The bus was discontinued in March 2013, and no bus will come. However, the bus stop remains as it is and is still visited by tourists.
People love Totoro that even there's nothing else, still it is worth visit to "feel" the world of Totoro and Ghibli. How Cool!
2-2 A bus stop with Totoro statue
A styrofoam statue of Totoro is displayed at the Yanagiguchi bus stop in Nagasaki. It is said that the work was made in the nearby place called Shodo(笑道) 202, and the statues of Doraemon and Spirited Away Yubaba are also made.
2-3 Totoro's panel - Kyoto Ninenzaka Acorn Bus Stop
In Ninenzaka, Kyoto Prefecture, there is a shop called Donguri Republic Ninenzaka that sells Studio Ghibli goods. At the entrance of this shop, there is a bus stop that says "Donguri(Acorn) Bus Kyoto Ninenzaka Stop". There is a Totoro panel near this bus stop. It's not a real bus stop where the bus comes though.
2-4 The waiting area is in the shape of Totoro!
In front of Hakui City Hakui Junior High School in Ishikawa Prefecture, there is a bus stop. The waiting area at this bus stop has eyes and ears in the shape of a Totoro, making it a nationally famous spot.
As you can see, above of this Totoro thing, there are Sakura trees that bloom in Spring and you will be able to see as if Totoro is hanging out under the Sakura trees which is amazing scenery if you could imagine.
2-5 The Catbus bus stop
In Naoshima, Kagawa Prefecture, there is a place where bus stop signs are lined up along the road between the Chichu Art Museum and Tsutsuji-so bnb. There is also a sign that says "Nekobasu no Teiryujo" = Catbus Stop.
It's middle of no where that you might encounter with the real Catbus.. worth try!
Trees and Rocks look like Totoro
Trees and rocks shaping like Totoro also exist all over Japan. Gold crest trees pruned in the shape of Totoro are planted in Neyagawa Park in Osaka.
Sure we all love Totoro that want to make something related. However, it seems that there are surprisingly many trees and rocks look like Totoro that have been created naturally.
3-1 Totoro Rock
Gongeniwa, located in Otomari, Monzenmachi, Wajima City, Ishikawa Prefecture, is an old big rock.
It is said to be Mr. Gongen of Tateiwa, and has nothing to do with My Neighbor Totoro. However, it came to be called Totoro rock because the shape of the rock resembles Totoro.
YouTube: https://youtu.be/xVnz4FsANvI
As you can see in the YouTube video, the rock now has eyeballs that look exactly like Totoro. Still it's totally amazing how the nature creates..lol
3-2 Totoro stalactite
The Ishigaki Island Stalactite Cave on Ishigaki Island in Okinawa is known for its Totoro-shaped stalactites. This limestone cave is famous as a limestone cave created from a coral reef.
Totoro stalactites have recently become a hot spot, a sign called "Stalactite Totoro" has also been added, making it the most famous spot in the stalactite cave.
It looks as if Totoro has lived there or something lol. but seriously it's cool that coral made this shape..
3-3 Totoro tree
There is a large tree called Totoro Tree in Sakegawa Village, Mogami District, Yamagata Prefecture.
The Totoro tree is called Meoto Sugi, and it is a place where there is a legend that a child treasure is given when a couple holds hands and rests at the base of the cedar. Check out the video link below!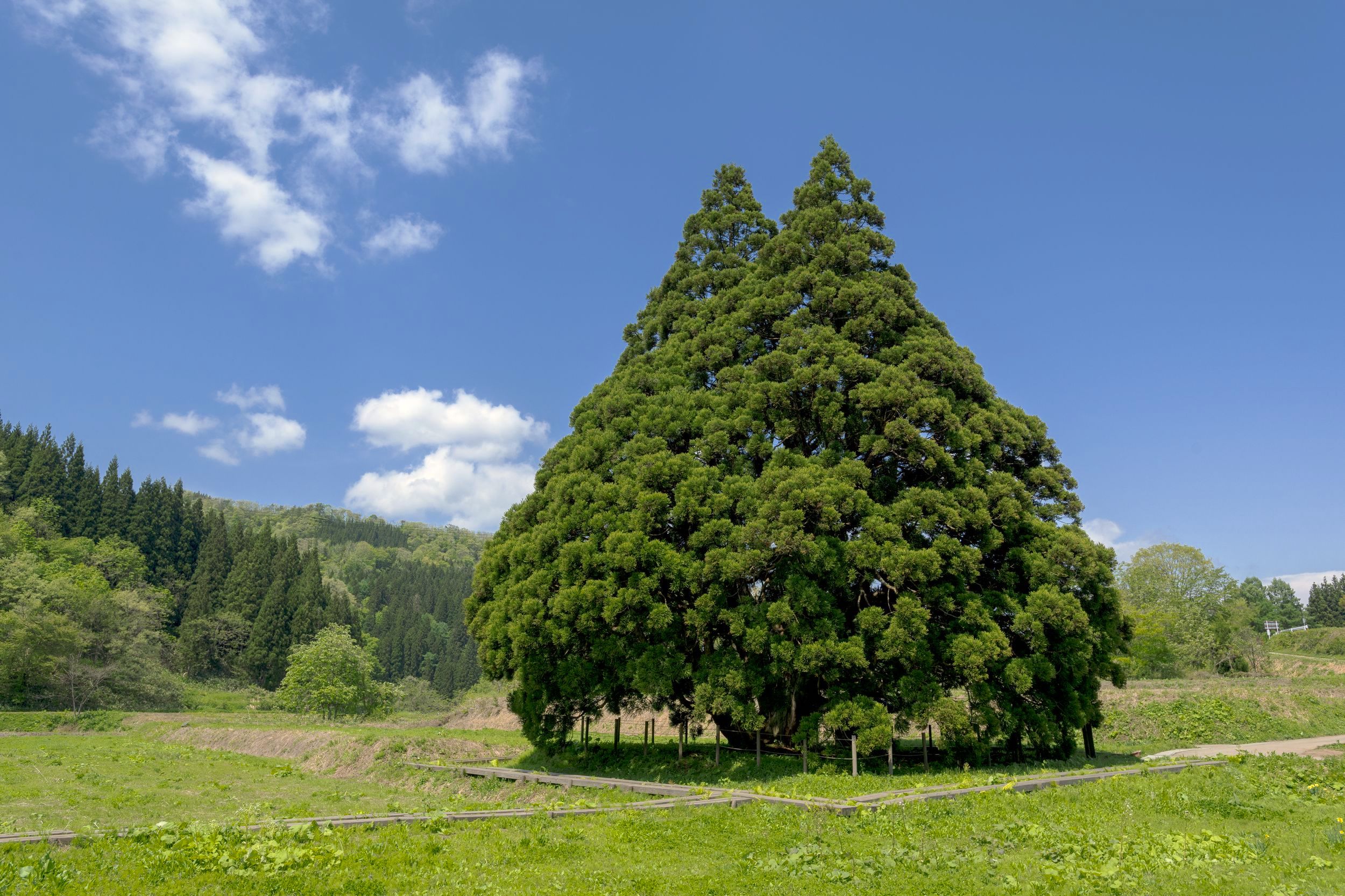 YouTube: https://youtu.be/_34Dc8VFGKE
Hey! You've grown up like Totoro. A tree with ears is pretty impressive!
It is a tree with multiple trunks growing from the root, and the top of the tree is just like Totoro's ears. In My Neighbor Totoro, there is a scene where Totoro plays on a big tree, but the atmosphere is somewhat similar.
These rocks and trees are completely natural. By chance, it feels strange to think that it resembles Totoro. From now on, it may be possible to find natural objects similar to Totoro.
Recap
Alright I introduced Totoro train stations, Bus Stops and even natural objects look like Totoro!!! What is going on in Japan?!
It's almost like you are still in the anime where unrealistic things are in front of you.
By visiting these places, you have better understanding why these people are so creative. And it is always nice to find out whatever you are passionate about and makes a great memory.
Studio Ghibli is full of mysteries and more you know it more to find out what's hidden that's why it's fun for long time.
By the way, did you know Totoro actually evolves? If you did not know, check out the link below!
I hope you had a fun reading it. If you like it, hit the Like button, and leave a comment :)
Happy sharing Love and Passion🙌
#totoro trivia #totoro station #totoro tree #totoro related stuff in real life #ghibli #miyazaki #totoro bus stop